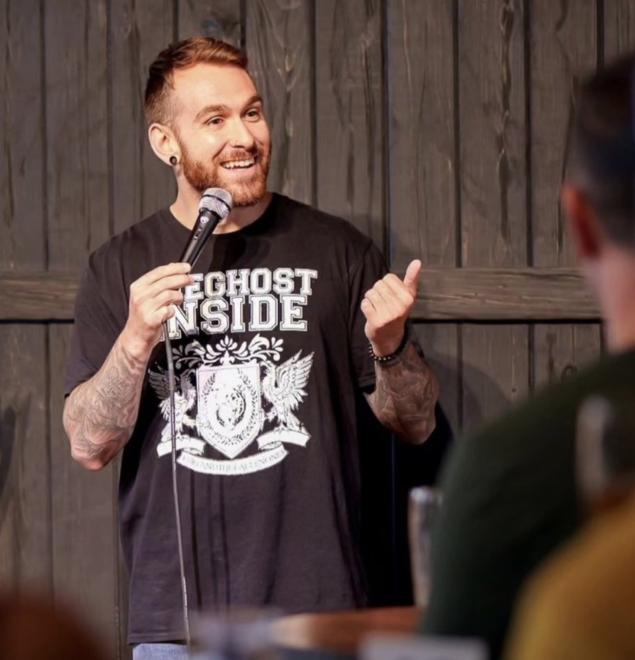 About
Cody Marino is a stand-up comic from CT. He performs weekly all across CT, NY, and MA. Cody is known for his brutal honesty on stage and isn't afraid to share stories about his wild family or his past struggles with addiction. When he is not on stage, Cody enjoys going to concerts, eating froyo, doing jiu jitsu, and minding his own business.
Read more >>
<< Read less
Tickets For Upcoming Shows
That's Fair Comedy featuring:Beau McDowell is a standup comedian and cohost of the Losers With A Dream podcast with comedy legend Lisa Lampanelli. Beau performs regularly on the East Coast, and is known for his big personality, his big stature, and his even bigger sense of humor about his former struggles with substance abuse, family codependence, and his search for self-acceptance. Beau's ability to approach serious and sometimes heartbreaking experiences with levity and warmth differentiates him as a comedian on the rise with something new to say.Nick Scopoletti is a stand-up comedian, and was a co-host of the "Losers With A Dream" podcast with comedy legend Lisa Lampanelli. He has performed at comedy clubs across the northeast such as Carolines On Broadway, Stand Up New York, Broadway Comedy Club, The Stress Factory, Fairfield Comedy Club, and Nick's Comedy Stop. He was also selected to perform in the Connecticut Comedy Festival. Nick is your friendly neighborhood Italian! He is a master storyteller who blends hilarious characters with powerful punchlines. His warm, engaging style makes him a fan favorite at any show.Mustafe Mussa is a stand up comic who has performed in comedy clubs across New England and the Tri-State area.JT Moore is a comedian who hails from Hartford and Bridgeport, CT. JT has performed in comedy clubs all over, including the Hartford Funnybone, the Comedy Connection, the Comedy Scene, Broadway Comedy Club, Standup NY, and the world famous Carolines on Broadway to name a few. He's opened up for acts such as Tommy Davidson, Tony Roberts, Arnez J, Karlous Miller, TK Kirkland, Earthquake, Eddie Griffin, and he continues to climb the ranks. You have also heard JT on Earthquake's radio show "Quake's House", which airs on Kevin's Hart LOL Network on SiriusXM Radio. He shot his first comedy special in 2019, titled "Fresh Off The Couch", which was recorded at a SOLD OUT Bijou Theatre, located in Bridgeport, CT. JT Moore is a crowd-pleaser with his guy-next-door persona. He caters to the crowd with his current event-style while making you feel like you've known him forever. His unmatched wit is very playful, with a raspy voice and animated facial expressions that will have you in tears of laughter. JT will definitely be a comedian to remember.NYC-based comedian Peter Angelo blends together a background of unique perspectives that leave crowds surprised and laughing through the whole show.
BUY TICKETS

});